(Group Pose From 2012 Olympia - Featuring Winner Iris Kyle, Alina Popa, Debi Laszewski, Yaxeni Oriquen-Garcia, Brigita Brezovac and Sheila Bleck)
Most of you should know by now, that either by the subjects of some of my stories or by my facebook posts; that I am a fan of International Female Bodybuilding, or IFBB for short. Female bodybuilding is nothing new, it has gone back several decades and has just now, like so many obscurities in our society; just hit the mainstream. Upon looking at the roster of competitors in the Olympia 2012, I found that the majority of them were from right here in the United States.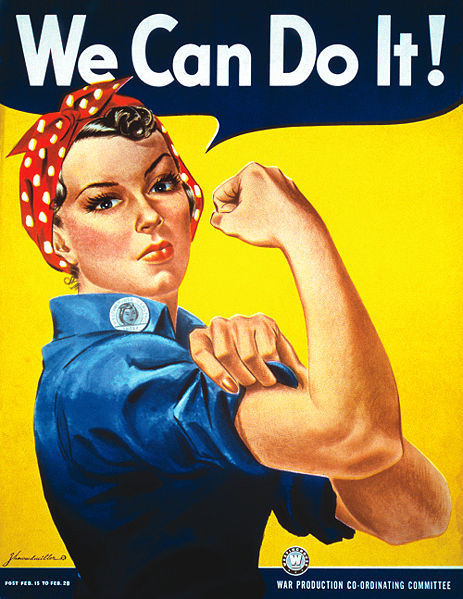 Of course, the mainstream media has done it's job of brainwashing the vast majority, showing them that men are supposed to look one way and women the other. Lean women are supposed to be the pinnacle of female beauty, while muscle-bound men are supposed to be the pinnacle of male beauty. These dictums go back all of the way into the early 1900's and the very birth of advertising. Of course, one could credit images like "Rosie The Riveter" to be the start of the rise of female empowerment, the piece showing a woman with her bicep flexed and looking very much in the image of a man.
(Rosie The Riveter - Well known for
being a symbol of female empowerment)
In the 80's, the bodybuilding film Pumping Iron released and just a few years later, it's successor Pumping Iron II: The Women released. This film was in particular released around the birth of female bodybuilding, where there was a great deal of debate about what the term "muscle woman" actually meant. It seemed hard for the judges in that film (which was more like a documentary or early-reality show) to determine what it was that defined both female beauty and female masculinity - in essence; what separated a muscle woman from the standard idea of a muscleman.

(Pumping Iron II - This rare film debued with the beginnings of the sport and helped
to introduce an entire world to female muscle.)
Alas, a woman by the name of Cory Everson came along and showed the world that women with muscles were indeed sexy and she became well known for it, even getting a slot on ESPN's early morning workout block where millions of Americans woke up and exercised along with her, myself included.
(Cory Everson, who made muscular women sexy in the media's eye
and reinvented the entire sport in doing so. She also grabbed several
championship titles
during her reign.)
Fast forward to now, and the fetish-laden internet and we'll see that sthenolagnia fetishists or "muscle-worshippers" have dominated the sport, even keeping it alive in some aspects. The women do not necessarily make much from the competitions, but have definitely been able to turn a profit with cam-shows, muscle videos, and even situations in which an individual will pay one of these women an exorbitant amount of money for an hour long "muscle-worship" session.
(Megan And Jennifer Scarpetta - Two Ladies Synonymous
All this frivolity being said, we cannot forget the most important part of the Female bodybuilding lifestyle; which is the sport itself. What most people don't seem to understand is that these women spend an exponential amount of time at the gym all in the attempt to chisel, sculpt, carve and build themselves for the next competition. Of these competitions there are several, with the Arnold Classic and Ms. Olympia being the major events. (Additionally, these events also cater to fitness modeling; which is aesthetically more pleasing to the eye of the mainstream individual.)
(Alina Popa Working hard at the gym. Muscles like that take plenty of time, hard work, a clean diet and sacrifice.)
But as I've said, these women spend more time at the gym than they do at home and they are forced to stick to their diets; no matter what may sound appetizing to them at the time. It's just like any other sport and requires a strict diet, that a majority of people couldn't handle. I remember one woman saying "I've even so much chicken that I think I'll be able to fly!" as chicken (not fried either, folks) is a mainstay food of the FBB diet along with protein shakes and other such foodstuffs that one would refer to as "rabbit food." But that's all apart of the sacrifice to build the perfect body. Supplements and "grey area substances" are also used, but it is a competition in which one should utilize every facet available in order to succeed.


(Not eating pizza every so often is something that these women
have to sacrifice every day. What about ice cream? Nope. Candy?
Nope. Fast Food? You're joking, right? Not even a bag of chips,
and certainly not cookies.)
Nevertheless, the amount of work that these women put into themselves is striking. Watching a competition is almost electrifying, as these muscle-bound titans walk the stage and enamor one with the effect of rippling muscles and statuesque
definition. If you've never seen a
competition where these women walk the stage, it's truly awe-inspiring as I've never seen anything like it. Women with such Herculean muscles are almost unimaginable, something that seems out of this world entirely - but I can assure you that you'll never forget the image, whether it amazes, horrifies, or simply confounds you.
(Iris Kyle posing at the Olympia. She was truly striking, towering over the other women with such size and muscle. If nothing else, it's truly remarkable to see a woman with so much power.)
Now, there are some rumors that I will address about the sport. One of them is the main idea that "many of these women used to be men." Which is simply not true. While such enhancements can make a woman seem more masculine, it does not mean that they must be a man in order to carry that kind of physique. Some of them even model nude, so if you need that sort of verification; you can be my guest.
Another misconception is that female bodybuilders "aren't women" because they look like men. For some odd reason, the general populous doesn't expect the female bodybuilder to act like that of a woman. Which perplexes me. But I will assure you that all of the things that "normal women" would enjoy are also enjoyed by FBB's. Everything from long walks, sappy romance movies/romance novels, soap operas, cuddly pictures of animals, candle-lit dinners and going out to the club to dance (if time permits) are enjoyed by these women just as much as any other woman. The only thing I wouldn't do is bring them chocolate. Maybe just the flowers, gentlemen.
There has also been a belief that these women have a hard time finding dates because of "muscle intimidation" but I have also found this to be simply not true. While I would certainly believe that there are some insecure men out there, not all men are afraid of powerful women and seem to embrace them. Some of these seem to wind-up in crazy one-night stand sessions, but there are most certainly those who wind up falling in love with and marrying these women.
From the looks of the internet, it would seem that there are several silent admirers of these women as well, but they seem content to admire from afar like gazing at some unobtainable jewel, which will most certainly be obtained by another because one can only admire for so long before another man or woman takes the admired "jewel" for themselves. We live in a society where if someone wants something they must put forth the effort. Most men are single in general because they don't ever go up to a woman and start small talk -

not a pickup line. Quite simply, I'd find that walking up to one of these fine women at a club and telling them how much you admire their body of work and dedication might be a good start. After all, they sacrifice EVERYTHING to get where they are; so complimenting them surely couldn't hurt. You might be surprised as to what happens next!

(Debi Laszewski posing for the camera. Yes, you too can be with a woman like this
if you act like a decent gentleman and not a slobbering dog. lol)
At any rate, the scene of female bodybuilding (which is not exclusive to America by the way) is an interesting athletic scene composed of females who prove that every day they can not only do the work and achieve the body that mainstream society expects of a man, but they can surpass it and become bulging titans of muscle in their own right. It takes a lot of work, a proper diet and time at the gym that you'll never get back - but just like any other sport, it's something one does with dedication. Whether you're training for the NFL or the next EVO fighting game tournament - training, sacrifice, and dedication is required. It's just not something that can be obtained overnight.
I hope that after reading this, you'll have a greater appreciation for muscle women, or as they're professionally called - International Female Bodybuilders. If you would like to see some of these girls in action, you can go to:
www.usamusclewomen.com, www.femalemuscle.com, www.hermuscles.com, www.herbiceps.com and several other sites and blogs dedicated to these women around the world.
Maybe you will also discover, that muscle is sexy. And I'd like to thank the women who I've shared this with before the post - IFBB Dana Richards and Steven-Kristine Mele! Thanks for your support!